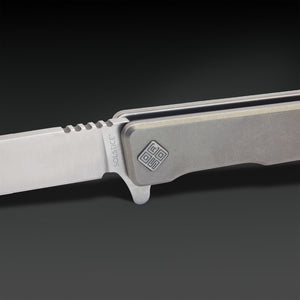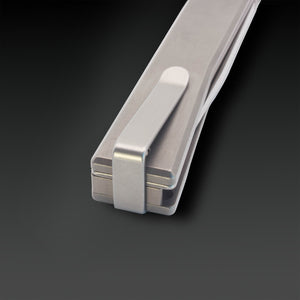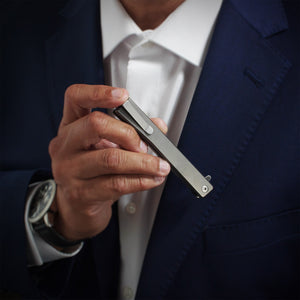 Praise for the Solstice
"This knife is a joy. I'm a sucker for an EDC design that doubles as a fidget toy, and I've been typing one-handed ever since I got the Solstice, because I can't put it down. The action, on opening, is incredible."
"We have had many pocket knives come through the office for review over the years. Still, none of them were so universally loved by all our staff as the Solstice by Ocaso."
"The Solstice is more than a classy knife - it's designed to function flawlessly."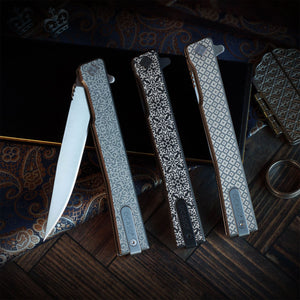 Elevate Your Everyday Carry
The Titanium Solstice is now available in four precisely laser-engraved handle patterns and two blade finishes. The intricate, elegant handle engraving and modern, simple design make for a truly timeless pocket knife.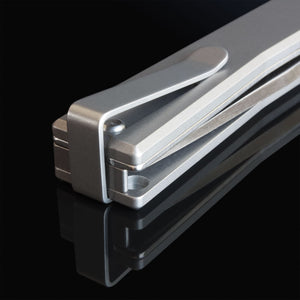 Our Signature Pocket Clip
The ambidextrous, stainless steel deep carry pocket clip wraps around the handle for a modern, sleek appearance. No matter which way you equip it, the trough and screw holes that enable the clip to be reversed are concealed.
Made with Premium Materials
Crucible S35VN steel: Made in the USA and widely recognized as a high-end steel due to its durability and remarkable wear resistance.

Aerospace grade Titanium: Considered a premium metal for a knife handle, titanium is lightweight with a high strength-to-density ratio.

Solid 3k Carbon Fiber: As strong as steel but a fraction of the weight, the woven carbon fibers reflect light and lend an unmatched air of elegance to any knife.

Stainless Steel Caged Bearings: For lightning fast, incredibly smooth deployment.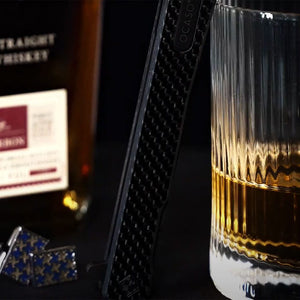 The Solstice
Designed by Andrew Demko.
THE BEST PERIOD!!
THE SOLSTICE IS THE PREMIER GENTLEMAN'S KNIFE BAR NONE. IF YOU ARE A RESTAURANT CONNOISSEUR AND ENJOY A TOUCH OF CLASS TO ENHANCE YOUR DINING EXPERIENCE MAKE THIS PURCHASE. THE STEAKS WILL BE ALWAYS TENDER AS IT CUTS LIKE A HOT KNIFE THROUGH BUTTER.
Not the best value...
Check out the UZI Occam's Razor for an almost clone for under $30. I ordered a CF Solstice and returned it when I couldn't see $180 difference!!!
Our choice to use premium materials, like USA made Crucible S35VN steel do mean our knives cost more than those made in China with budget steel. We specifically chose S35VN steel for its proven superior edge retention, toughness, and corrosion resistance. Beyond a knife's appearance, we believe materials and craftsmanship matter for long-term performance and value.
Spot-On !
I purchased the Solstice with a wharncliffe blade. It is everything that I expected and more. The fit and finish with titanium scales and the S 35 VN steel blade exude quality. The closed blade centers perfectly, and the liner lockup is a comfortable 50%. I like every aspect of the Solstice, and find myself manufacturing reasons to produce it, heft it, and fidget with its incredible flipper action.
great design!!
It's a fabulous piece
It has a very practical, elegant and very strong design, without a doubt one of my favorites
Amazing Knife, Amazing Company
Ordered a spread of Ocaso knives to get familiar with the new brand. I received shipping the same day and the package was here before I knew it barely two days later (I do not live in CA!)
I went with the harpoon blade in black with carbon fiber for the handles and to say I was impressed would be an understatement.
The carbon fiber grips were glossy with a beautiful pattern for the fiber itself. Even under the bright desert sun the carbon fiber looks beautiful and blemish free.
The blade- wow. Beautiful shape on the harpoon style. The black finish is lovely without being a total fingerprint magnet.
Speaking of the blade- the knife arrived perfectly centered and without blemish with a phenomenal action and lockup.
The knife is beautiful, functional, and a blast to handle. I couldn't be more impressed and I look forward to rounding out my collection further!

Every knife we make is we make is guaranteed. For life.

All orders within the contiguous U.S. ship free.

If you're not satisfied, send it back for free.