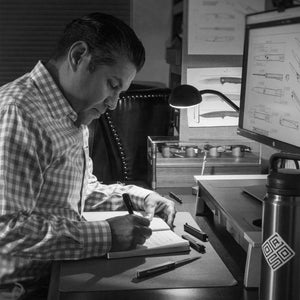 Our Story
Ocaso (oh-kah-soh) specializes in premium gentleman's, executive, and every day carry (EDC) pocket knives. Our knives are designed by leading knifemakers in the industry, with careful attention to detail, quality craftsmanship, and superior function. We strive to make the highest quality production knives using premium materials and a refined, elegant design aesthetic. It's the purpose behind every knife we make.

The founder of Ocaso, Ric Valdez, is a former executive for a leading knife manufacturer and has been in the knife industry for 20 years. Ocaso was founded by Ric's belief that the knife you choose to carry every day defines the essence of who you are and what you believe in. Our goal is to craft sophisticated, versatile, distinctive pocket knives that are a reflection of your personal style. From the office to the outdoors, Ocaso knives are designed to be your companion, for life.
Gear for the Modern Gentleman
By design, gentleman's knives are meant to be simple, stylish, and small. A classy, timeless tool for every outfit and occasion. The best gentleman's knives are discreet, lightweight, uncomplicated cutting tools that exude elegance and style.
We believe a well-designed, well-made knife is like a piece of functional art. Our mission is to design and craft knives with a focus on luxury, fit and finish, and the performance to match their good looks. We use premium materials including titanium, carbon fiber, Damascus, and S35VN steel to create knives that are the ultimate expression of your personal style.
Ocaso - Seize the Day