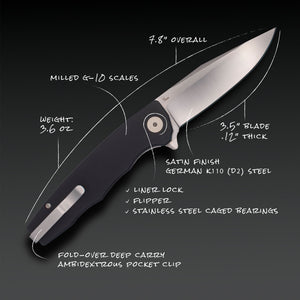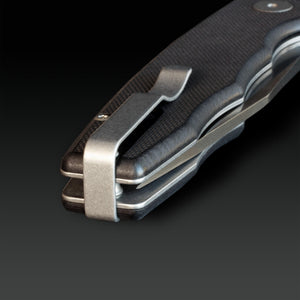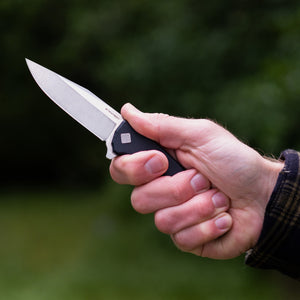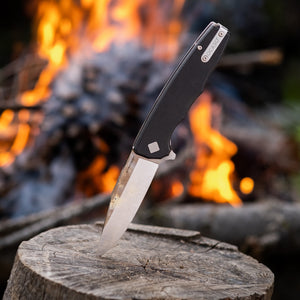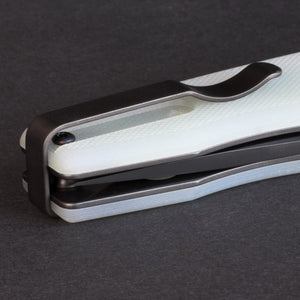 Our Signature Pocket Clip
The ambidextrous, stainless steel deep carry pocket clip wraps around the handle for a modern, sleek appearance. No matter which way you equip it, the trough and screw holes that enable the clip to be reversed are concealed.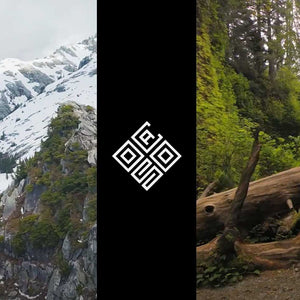 The Strategy
Designed by Mike Wallace.
Great knife!
The Strategy is very nicely designed, a medium size knife with a nicely done blade, I bought with Jade G-10 scales and they feel great. Pocket clip is uniquely done to easily swap for left handers. The K110 blade is easy to sharpen and keep sharp. Price is great for a premium knife… one of my daily carried knives! I highly recommend Ocaso knives for the high quality and people behind the cutlery!
Jack of All Trades
Picked up a strategy alongside a Solstice to become more familiar with the Ocaso brand. Shipping was immediate and both knives arrived immediately.
Right out of the box you can tell the Strategy is a keeper. Sharp, centered, and boasting a phenomenal action, the strategy is impressive even before you open it.
Function is crisp and lockup is satisfying. My knife arrived perfectly centered and blemish free. If the strategy is the benchmark for Ocaso quality, I'm both impressed and excited for what the future holds!
All Arounder
The Strategy is a fantastic all around knife ready for whatever you need. I really like the shape of the handle, it's very comfortable and when you wrap your hand around it, almost feels like the old grips from your bike when you were a kid! The best thing about the Strategy is, it's at home in the urban/office environment (nice clean lines and classy design) or in the woods on adventure (solid 3.5" K110/D2), I like the carbon fiber best myself, by it comes in G10 or aluminum...nicely done Ocaso!

Every knife we make is we make is guaranteed. For life.

All orders within the contiguous U.S. ship free.

If you're not satisfied, send it back for free.