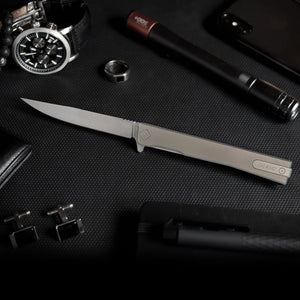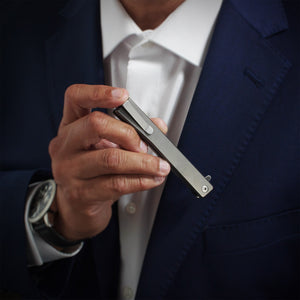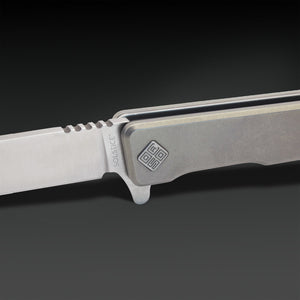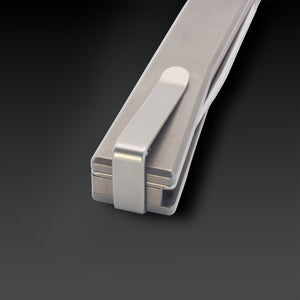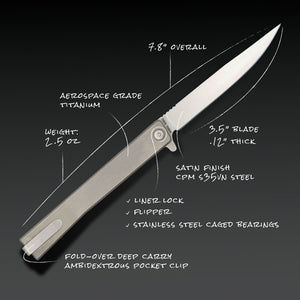 Praise for the Solstice
"This knife is a joy. I'm a sucker for an EDC design that doubles as a fidget toy, and I've been typing one-handed ever since I got the Solstice, because I can't put it down. The action, on opening, is incredible."
"We have had many pocket knives come through the office for review over the years. Still, none of them were so universally loved by all our staff as the Solstice by Ocaso."
"The Solstice is more than a classy knife - it's designed to function flawlessly."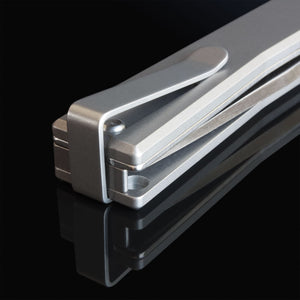 Our Signature Pocket Clip
The ambidextrous, stainless steel deep carry pocket clip wraps around the handle for a modern, sleek appearance. No matter which way you equip it, the trough and screw holes that enable the clip to be reversed are concealed.
Made with Premium Materials
Crucible S35VN steel: Made in the USA and widely recognized as a high-end steel due to its durability and remarkable wear resistance.

Aerospace grade Titanium: Considered a premium metal for a knife handle, titanium is lightweight with a high strength-to-density ratio.

Solid 3k Carbon Fiber: As strong as steel but a fraction of the weight, the woven carbon fibers reflect light and lend an unmatched air of elegance to any knife.

Stainless Steel Caged Bearings: For lightning fast, incredibly smooth deployment.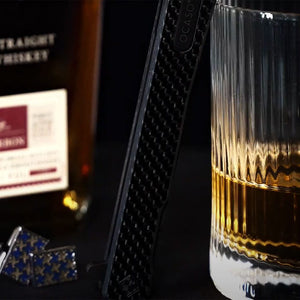 The Solstice
Designed by Andrew Demko.
Strength and Elegance
Slim, sleek, and surprisingly stout, this knife ticks a lot of boxes for me. I've actually been looking for something like this for a long time. This definitely fits the "gentleman's knife" category, but is built to be tougher than knives that usually fit that category. Love the wharncliffe design too. They knocked this out of the park!
The best gentleman's carry
From the carry profile to the excellent design decisions, this is the new standard.
Received My Solstice
I received my Solstice, and I cannot truly express how impressed I am on every possible level. I own several knives, but my Solstice has just taken over as my everyday carry. With Ocaso quickly becoming my favorite overall company. I think the Gentleman's Folder is oft overlooked in regards to there being a premium luxury offering at an approachable price. The Solstice easily overtakes EVERY available option on the market. The quality is impeccable, the action smooth as butter, snappy as a bullwhip, and solid construction with ZERO wiggle in the most stable liner locked blade I have ever owned. I can easily see why a case is offered to hold multiple Ocaso knives, because although this may have been my first Ocaso purchase; it will clearly not be my last. Thank you for being so responsive to all my questions, and I really cannot stress enough how happy I am with my new knife.
Great knife just dull
Great knife. Looks amazing. Very smooth opening and closing. Only issue is that the blade was delivered not sharpened.
We haven't experienced an issue with the sharpness of our knives, and we're eager to resolve this if you're not satisfied. We've reached out by e-mail with return instructions if you'd like to send it back for inspection.
THE BEST PERIOD!!
THE SOLSTICE IS THE PREMIER GENTLEMAN'S KNIFE BAR NONE. IF YOU ARE A RESTAURANT CONNOISSEUR AND ENJOY A TOUCH OF CLASS TO ENHANCE YOUR DINING EXPERIENCE MAKE THIS PURCHASE. THE STEAKS WILL BE ALWAYS TENDER AS IT CUTS LIKE A HOT KNIFE THROUGH BUTTER.

Every knife we make is we make is guaranteed. For life.

All orders within the contiguous U.S. ship free.

If you're not satisfied, send it back for free.